THE AMY WINEHOUSE EXPERIENCE AKA LIONESS
Lioness have established themselves as the closest thing to Amy Winehouse at her best, keeping Amy's legacy alive for her many loyal fans. So much so, that we are delighted to welcome Amy's guitarist Robin Banerjee on their 2021 Tears Dry Tour. They provide the UK's most authentic tribute to the precocious talent of Amy, featuring TV's 'Stars in Their Eyes' finalist and 'X Factor' boot-camp contestant Emma Wright plus a full backing band to recreate the authentic sound of this heady mix of jazz, soul and pop.
With a full stage show including video playback showcasing the talent of this songstress, The Amy Winehouse Experience will take you on a journey through the emotional roller coaster of her song writing, guaranteed to have you singing and dancing along throughout the performance.
LIVERPOOL CAVERN CLUB
16 SEPTEMBER 2021 TICKET £15
SOLD OUT
EDINBURGH VOODOO ROOMS
5 NOVEMBER 2021 TICKET £15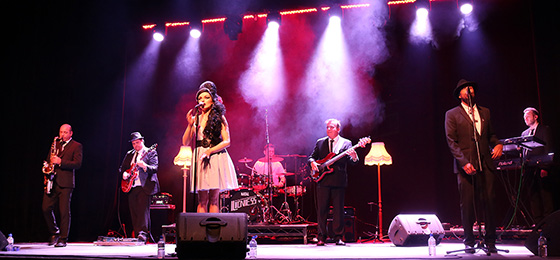 GLASGOW ROOM 2
6 NOVEMBER 2021 TICKET £15
PRESTON CONTINENTAL
1 OCTOBER 2021 TICKET £15
Website managed by Coast Town Events Limited - 2021