10th ANNIVERSARY TOUR 2024
A classic rock tribute show to one of the world's most influential rock bands, the international tribute Deeper Purple are on the road celebrating 10 years together as a 'Highway Star' and guaranteed to take you back to the classic 1970s with memories of a 'Child in Time'. So, if you like your music loud and proud it's time for a 'Black Night' at the Deeper Purple show.
The band comprise of seasoned professionals from across Europe who deliver the most authentic tribute to these Classic Rock giants! After all, it takes some doing to encapsulate the music of a band that have been going for over fifty years and worked through so many different line ups!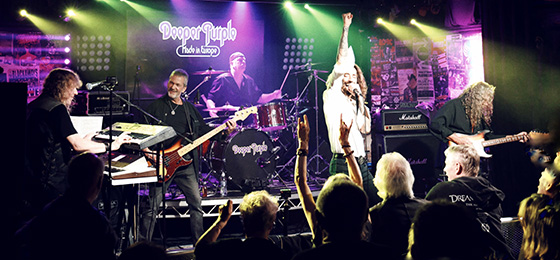 Please note that all tickets use PayPal and are subject to VAT which will be added at the end of the transaction. The face value of all tickets remains the same at £15.00.
Select ticket(s) from the venue options below. These tickets have no booking fee and each transaction is subject to £1.10 post and packaging via first class Royal Mail.
Website managed by Coast Town Events Limited - 2023